What's new in Adium?
Adium 1.4 was over 2 years in development (after the release of Adium 1.3 on 8/25/2008) and sports many new features. Just a few of the major improvements are listed below. We hope Adium makes instant messaging wonderful for you.
---
Twitter support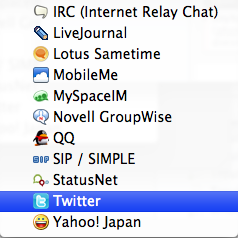 Timeline messages appear in a group chat.
Direct messages as a one-on-one chat with a contact
Adding and removing contact list buddies follows and unfollows them, respectively.
Also includes support for StatusNet servers, such as Identi.ca
---
IRC support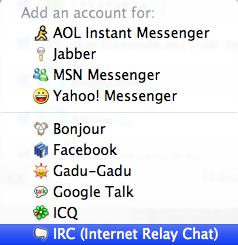 Execute commands on connect.
Display of operator status in chats, as well as user's /away status
Mass-modify attributes of user list members from the group chat's action widget below the user list.
---
Greatly improved group chats and group chat bookmarks
Joining large group chats now works a lot faster.
Many improvements to the user list.
Support for topics. (Note that message styles must support the feature for them to show up.)
---
New Authorization Requests window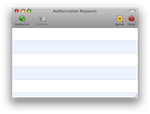 Authorization requests no longer create one alert panel per request
The authorization requests window has add, ignore, and deny toolbar and context menu items.
---
New and updated default message styles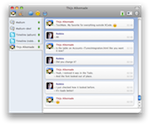 Updated to take advantage of new features such as topics and mentions.
Adium 1.4 also adds yMous as an entirely new style.
---
And lots more!
For the full list of changes, fixes, and improvements check out Adium Version History.